LOVE LETTERS FROM OUR HAPPY CUSTOMERS
5 stars....more like 10 stars!!! Excellent customer service! Beautitful product!! Fantastic material used. Colors are glorious. Fast ship time. New favorite vendor. HIGHLY recommend.

Marie, GA
I have literally never been so excited to make my bed in my life! I'm usually not big on leaving reviews, but you guys NEED to know how awesome this order turned out and how amazing these ladies are. 10/10 highly recommend!

Ashley, CA
Great color and quality work! Very attentive to detail. The owners contacted me many times before and after shipment. They show real pride in their work. I'm very happy with this purchase!

George, WA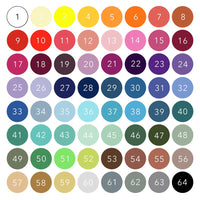 Did you know YOU can design your very own tie dye item?
The only thing better than designing tie dye is collaboating with you to design the perfect tie dye piece!
When you have 63 different dye colors, it's nearly impossible to brainstorm every color combination. That's exactly why we've added an option for you to choose the exact colors you want.

Choose up to 8 of our gorgeous dye colors and watch your creative vision come to life!!!
Custom colors are now available
for every tie dye listing!
shop now